News: News
eMarketer: When buying with smartphones, US consumers like apps and mobile web just about equally
January 31, 2017

|

By Fluent
Reposted from 
Publication date 1/31/2017
January 2017 survey of US internet users ages 18 and older by Fluent LLC found that over half of respondents said they make online purchases via their smartphones more often than on computers or tablets. But when asked whether they make most purchases through mobile apps or mobile websites, their preferences were almost equally divided: 49% said they primarily used mobile websites, while 51% favored mobile apps.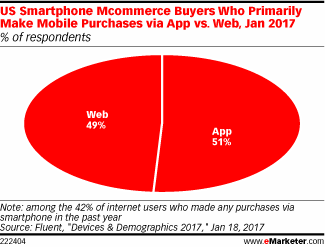 When it comes to how people of different ages groups like to purchase via smartphone, similarities were likewise striking. An average of 58% of millennials said they used apps more often than the mobile web for purchases, while an average of 60% of users ages 45 and older preferred purchasing via the mobile web.
The virtual tie in smartphone purchasing preferences is surprising when considering that, in general, US adults spend far more time on mobile apps than the mobile web. In 2017, eMarketer estimates, US adults will spend 2 hours, 41 minutes per day using apps, compared with just 34 minutes a day using mobile websites.
eMarketer PRO clients can view the full report here.
"The reason there is no clear preference when it comes to mcommerce could be that shopping isn't a top in-app activity, in terms of daily time spent," said eMarketer principal analyst Catherine Boyle.
eMarketer projects the majority of daily app time is spent on five activities: listening to digital audio, social networking, gaming, video viewing and messaging.
While the mobile web can be a better acquisition channel because there is almost no barrier to discovery, driving users to download and engage with apps has its perks as well. "Native apps can deliver more immersive shopping experiences, give brands access to smartphones' location services to trigger geotargeted offers and create a permanent brand presence on the phone, which boosts awareness," Boyle said.
Your Greatest Marketing Challenges, Solved
Get fresh up-to-date insights and content. Sign up now.