News: Press Clippings
eMarketer: Promotions Influence Millennials' Purchase Decisions
August 31, 2016

|

By Fluent
Reposted from  
Publication date 8/31/2016
Digital marketing channels, like promotional emails and social media ads, can have an influence on millennial purchases, research indicates. In fact, more than two-thirds of US millennial internet users said promotional emails affected their purchase on decision at least a few occasions.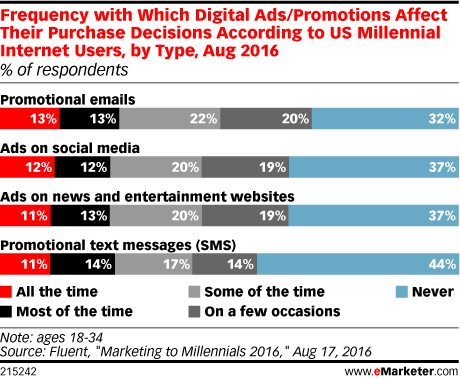 But these channels may not be able to influence millennial purchasing decisions all of the time, August 2016 data from advertising technology company Fluent found. As a matter of fact, only 13% of respondents said promotional emails affected them all of the time. More respondents said promotional emails influenced their purchases at least some of the time. And one in five said email swung their decision on a few occasions.
Promotional emails aren't the only digital marketing channel that can influence millennials' purchase decisions: Select ads—like those on social media—can as well. Indeed, nearly two-thirds of US millennial internet users said that ads on social media networks influenced their purchase decisions at least on a few occasions.
And promotional text messages, which consumers prefer for loyalty program updates can also affect millennials' purchase decisions on a few occasions; more than half of respondents said they did.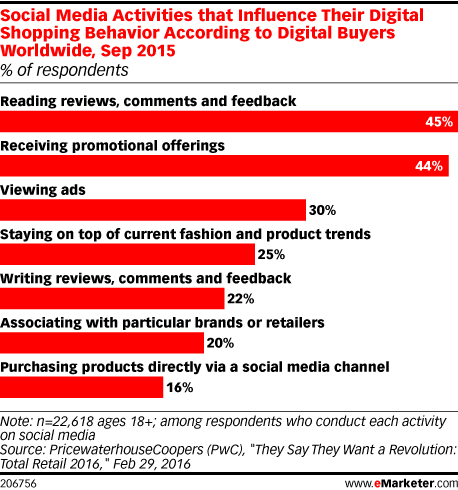 For the most part, consumers want to hear from retailers if they're offering them something worthwhile, like a promotion. And if an email contains a promotion, consumers are more likely to open it.
Consumers are also turning to social media to help influence their shopping behavior, according to research from PricewaterhouseCoopers (PwC). Nearly half (45%) of digital buyers worldwide said that reading reviews, comments and feedback on social media influenced their digital shopping behavior. Some 44% of respondents also said that receiving promotional offerings also influenced their shopping behavior.
Your Greatest Marketing Challenges, Solved
Get fresh up-to-date insights and content. Sign up now.